I'm so excited that you are ready to start on your new Etsy adventure. You probably have butterflies in your tummy as you are taking your first steps to bring a dream into reality.
Please notice that this promotion will only work for new Etsy sellers.
We all love free stuff, and free listings in your brand-new shop is a good starting point for your new journey. Normally you will be charged a listing fee of $0.20 USD for each item that you list for sale on Etsy. Each listing is valid for 4 months.
However, if you use the referral link below you can get 40 free listings when you open your shop for the first time. When you use the link both of us get 40 free listings on Etsy. So it's a win-win.
40 free listings on Etsy
Click on the button below to claim your free listings.
How to claim the 40 free Etsy listings?
Please do the following to claim your free listings:
Click on the link above
Sign up to Etsy and register your shop
Start listing your first 40 free items
Please keep in mind that you need to open your shop directly from the provided link in order to receive the free listings. If you navigate away from the link or switch browsers, the new shop will not be registered as coming directly from the link and will not give you any of the free listings.
Where can I view the number of free Etsy listings?
The listings will appear in your "Shop Manager". Select "Listings" in the left main menu. The number of free listings will be visible in the upper right corner, next to the "Add a listing" button.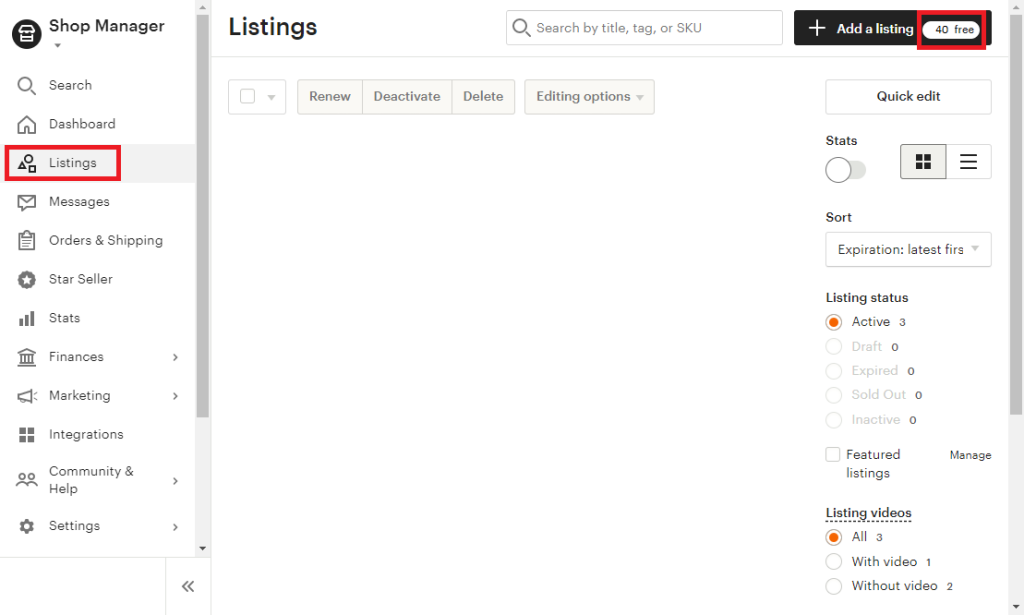 Please be aware that it might take some time, even a few days, before the number of free listings is visible in the "Listings" page.
Refer your friends
When your shop is up and running, you can share your own referral code with others to get even more free Etsy listings. Any shop can offer a referral link to a new seller. Both the new seller (you) and the shop referring (me) get 40 free listings. Yippee!
You find your own custom referral link by visiting the following Etsy page:
Other offers for sellers
Etsy occasionally sends some sellers exclusive offers and promotions to redeem free listings. One example is the discount code for 100 free listings that was given to some sellers. It is important to note that if you acquire such a benefit, you must be careful not to share the code to anybody else. If this is the case, Etsy will delete all of your free listings as well as those of everyone else who used the code.
Since you're already here, why not have a look at my Etsy shop. But wait to explore my shop after you have created your own 🙂
Related